Girls: Camp Friend
0:56
Nivel de dificultate:
Intermediar
Girls:
Camp Friend
In this clip from Girls, a comedy following the lives of a group of girls in their early 20s, Shoshanna (Zosia Mamet) runs into a friend from summer camp.
Vocabular cheie
exclamation point
overeager
intense
kitchen raid
counsellor
junior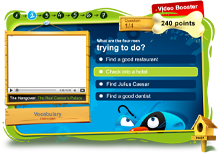 Începe să înveți limba engleză acum!
Video Booster este un joc interactiv în 6 pași, care te ajută să înveți și să exersezi elemente de vocabular, expresii și gramatica limbii engleze, văzute și ascultate din videoclipuri.
Free Trial
Versiune de evaluare gratuită
Pentru a juca acest Video Booster, activează cele 3 zile de evaluare gratuit. Vei avea acces la peste 1.000 de lecții bazate pe videoclipuri ca acesta, precum și la toate dicționarele ilustrate și jocurile noastre de învățare a limbii engleze.
17 comentarii