One Direction: What Makes You Beautiful
3:27
Nivel de dificultate:
Ușor
One Direction:
What Makes You Beautiful
The up and coming boy band, One Direction, released the successful single, "What Makes You Beautiful" in September 2011. This upbeat teen pop song was ranked number one on the UK Singles Chart and number four on the U.S Billboard Hot 100.
Vocabular cheie
insecure
overwhelmed
desperately
turning heads
ain't
cover up
shy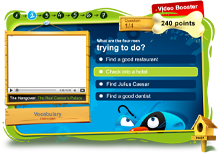 Începe să înveți limba engleză acum!
Video Booster este un joc interactiv în 6 pași, care te ajută să înveți și să exersezi elemente de vocabular, expresii și gramatica limbii engleze, văzute și ascultate din videoclipuri.
Free Trial
Versiune de evaluare gratuită
Pentru a juca acest Video Booster, activează cele 3 zile de evaluare gratuit. Vei avea acces la peste 1.000 de lecții bazate pe videoclipuri ca acesta, precum și la toate dicționarele ilustrate și jocurile noastre de învățare a limbii engleze.
Videoclip de prezentare
One Direction: What Makes You Beautiful
26 comentarii