Twilight: Breaking Dawn: Something Old
0:57
Nivel de dificultate:
Ușor
Twilight: Breaking Dawn:
Something Old
In this clip from the 2011 installment of the Twilight vampires-and-romance franchise, Bella (Kristen Stewart) is getting ready for her wedding, assisted by her mother Renee (played by Sarah Clarke) and father, Phil (Ty Olsson) who presents her with a family heirloom.
Vocabular cheie
mascara
hot
heirloom
besides
sapphires
Oh my gosh!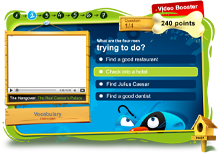 Începe să înveți limba engleză acum!
Video Booster este un joc interactiv în 6 pași, care te ajută să înveți și să exersezi elemente de vocabular, expresii și gramatica limbii engleze, văzute și ascultate din videoclipuri.
Free Trial
Versiune de evaluare gratuită
Pentru a juca acest Video Booster, activează cele 3 zile de evaluare gratuit. Vei avea acces la peste 1.000 de lecții bazate pe videoclipuri ca acesta, precum și la toate dicționarele ilustrate și jocurile noastre de învățare a limbii engleze.
Videoclip de prezentare
Twilight: Breaking Dawn: Something Old
20 comentarii